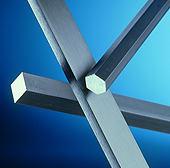 We offer a broad ran­ge of steel bars in dif­fe­rent ver­si­ons. Our pro­duct port­fo­lio includes round steel, flat steel, squa­re steel, hexa­go­nal steel, semicir­cu­lar steel and flat semicir­cu­lar steel.
Depen­ding on your mate­ri­al demands, you recei­ve our pro­ducts for exam­p­le hot rol­led, bright tur­ned, ham­me­red as well as plain and from the pro­duc­tion line.
Accor­ding to your pur­po­se, we offer you the right sur­face processing.
News­let­ter
Stay up to date and sub­scri­be to our newsletter!

Gün­ter Läm­mer­mei­er OHG
Bau­mets­wie­se 6
D-86732 Oet­tin­gen