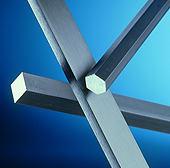 We offer a broad range of steel bars in different versions. Our product portfolio includes round steel, flat steel, square steel, hexagonal steel, semicircular steel and flat semicircular steel.
Depending on your material demands, you receive our products for example hot rolled, bright turned, hammered as well as plain and from the production line.
According to your purpose, we offer you the right surface processing.
Newsletter
Stay up to date and subscribe to our newsletter!

Günter Lämmermeier OHG
Baumetswiese 6
D-86732 Oettingen