Stainless steel processing
We process stainless steel according to your whishes and our wide range of options for you. We have the right solution – even for complete machining according to your drawings.
Important for us are quality, experience, knowledge and flexibility.
Newsletter
Stay up to date and subscribe to our newsletter!
Stainless steel processing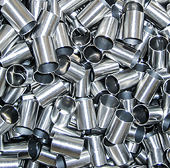 The use of modern machinery enables us to cut steel tubes or hollow steel to size. It doesn't matter if round tubes, square tubes, hollow bars as also flat, round and square bars and...

Günter Lämmermeier OHG
Baumetswiese 6
D-86732 Oettingen